Rattlin' a few more plates
Jim with his 10" bull barreled Ruger Mk. II in the process of winning the iron sight class. Lou's running the timer.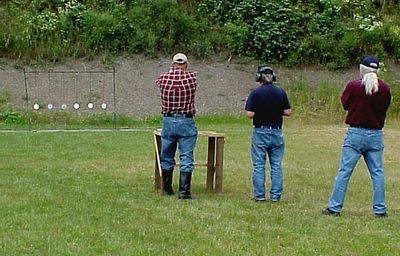 Jim shooting, Lou timing, and Al watching to verify plate hits.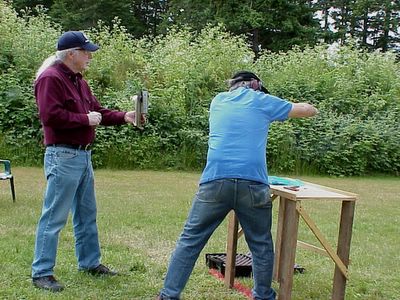 Mr. Completely. Has at it. Weird stance, Weird grip, left-handed and all, it does work, however!


The plate rack as set up for a match. Made out of rebar.


Can't get much simpler than this!


The weather started out looking kinda grey and rainy, but the rain held off, and mid-way through the morning the sun broke through the clouds.
Jim seems to have finally got his iron sighted Ruger dialed in, and ended up in a tie with Steve with 42 plates each. In the shoot-off, Jim narrowly edged Steve to take the win. Mr. Completely managed to eke out a third with 40 plates, and Al was right behind.
In optical sight class, Mr. Completely was on a roll, only missing 5 plates to score a 67 out of 72, with Al a bit behind that.
After the plate shoot we had a just-for-fun side-by-side shoot-out. 20 yards, each shooting at a single clay pigeon. Three shots, first to hit the their pigeon wins the round, and single elimination to the final. Jim won the iron sight class, beating Mr. Completely in the final. First year shooter Pegi (see the previous plate shoot post) knocked everyone out to win the optical sight final.
Way To Go Pegi!!
Due to a clerical error, Mr. Completely didn't get entered into the optical sight class, and didn't shoot. (Just as well, probably!!)
If you are looking for a fun event to pump some excitement back into your club activities, you might try a rim fire hanging plate match. The equipment needed is modest and durable, and it doesn't require a super-expensive handgun to be competitive.
Most important, however, is it's just a lot of fun!!