Intratec TEC-22 Rim Fire Race Gun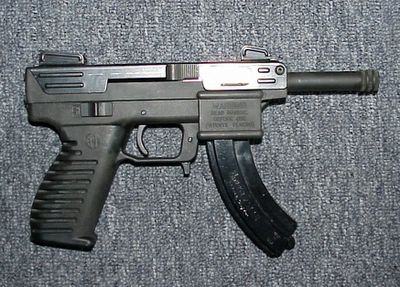 Intratec TEC-22 ready to go.
Field-stripped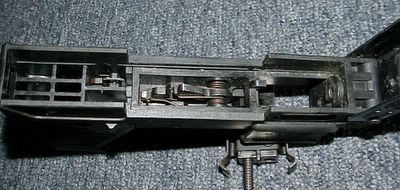 Here's the trigger mechanism and internals.
Intratec tec-22 - Rim Fire Race Gun
I'm sure you are already wondering what the heck a TEC-22 is doing in here with all the other "more conventional" rim fire race guns. Well, I actually entered this TEC-22 in a couple of iron sight class bowling pin top competitions a few years back, just for the fun of it. Actually got a second place it, to everyone's consternation.
(They've

FINALLY

stopped calling me

"The old guy with the UZI!"

)
The TEC-22 has a lot of really neat things about it. First, of course, is it's looks! All black, boxy steel with a short little barrel, large capacity magazine. What's NOT to like! Just OWNING one is enough to set off the gun-banners.
When I first picked up a TEC-22, I was pleasantly surprised by the feel of the grip. It doesn't look too fancy, but it seems to fit your hand well, although it's a little slippery. Very comfortable, in fact. The sights, although large and crude
(like some of my shooting buddies!)
do the job. If you have lousy eyesight to start with, BIG sights are appreciated. The TEC-22 uses standard Ruger 10/22 magazines, and that gives you lots of magazine capacities to choose from.
The TEC-22 is the second easiest semi-auto there is for field stripping. The easiest is the Jennings 22. It would disassemble itself in your hand, sending parts in all directions when you fired it.
To field strip the TEC-22, just push in the button on the back of the frame just below the rear sight and lift up the hinged top of the receiver. Pull the slide back about half an inch, and lift it, the guide rod, and spring out as an assembly. That's it! You can field strip it and reassemble it in ten seconds!!
How's it shoot?
The trigger pull is average, but is easy to work on, and pull can be lightened to suite your preferences. I think a wider trigger would also improve the feel. Shooting from a rest, it's more accurate than I would have expected, considering the short barrel. I wouldn't expect too much at fifty yards, but that wasn't it's intent to start with. The sights, although not fancy, seem to do the job OK. The rear sight is adjustable for elevation, and the front sight adjusts for windage. One of these days I might just mount a red dot sight on my TEC-22. That could be a really fun combination!
I have had failure-to-eject problems once in a while, but I suspect part of this is due to the gun still being a little tight, and possibly my selection of ammunition. Come to think of it, cleaning it more often would also help, I'll bet!
Final Impressions: I find the TEC-22 to be one of the most fun 22's I've ever fooled around with. It's not the most accurate, not the most precisely built, and certainly not the most sophisticated from an engineering standpoint.
However, it's a whole lot of fun to shoot, and that's what it's REALLY all about, isn't it!
As long as you don't mind being called the old guy with the UZI.......